you've come to the right place!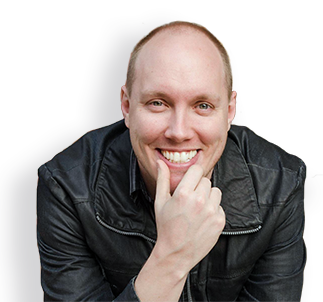 The Story of ME
2001 – I began exploring graphic design in college.
2004 – My love of collaboration and story took me to the graphic novel field as a writer and later editor and art director.
2011 – After scriptwriting for years, I returned to college to pursue my fondness for anthropology.
2015 – At Splitpeak design I worked my way up from junior designer to become our lead interaction designer and was soon promoted to project manager alongside product designer.
2018 – Packaged my UX experience on larger budget projects for small businesses to help them reach their goals and create a functioning plan for the future.
Where I am now
Looking for new challenges to expand my skill set as well as hone my craft in an environment where I can combine my fondness for collaboration and my 8+ years' experience in gathering and translating user data into attention-getting actionable design solutions.
.
Discover
Insight into the problem
Define
The area to focus on
Design
Generating potential solutions
Deliver
Tested solutions that work
What I'm questioning
erasing bias, assumptions, and guesses.
What are we making?
Who are we making it for?
Who are the stakeholders?
What constraints are there?
What problems are we solving for?
What is the brand?
What are we really making?
Have we correctly framed the problem?
What does success look like?
What features are being considered?
How can we solve the users problems?
How do we test our solution?
What constraints are there?
What problems are we solving for?
What feedback is there?
Does the product need refinement?
How have requirements changed?
What I'm doing
Testing, exploring, and sharing.
Stakeholder interviews
User interviews
Journey mapping
Empathy mapping
How-might-we affinity maps
Competitive analysis
Diary studies
Guerilla user research
Heuristic analysis
Success metrics
Refined problem statement
Personas
Customer journey map
Cost/Benefit analysis
Study and analyze customer requirements
Create user stories
Problem statement
User flows
Site maps
Card sorting
Wireframes
Usability testing 
Problem hypothesis
Prototype
Testing
Quality assurance
Refining prototype
"David… has proven himself as a strong workhorse, communicator, interactive designer, and project manager throughout. He has exceptional skills when it comes to understanding complex digital applications and identifying the root cause of a problem that he finds creative design solutions to."
"I can not speak highly enough of David and his work. It has been a fantastic experience collaborating with him. David helped to design and create our small law firm's website years ago… he is able to explain technical issues in a way that a layperson can understand. Our website turned out beautifully and ranks highly for performance."