The goal of the virtual Service Rep kiosk was to provide greater transparency in the sales and service journey. The kiosk application is built with accessibility in mind from the very first touchpoint.
Goal: improve the customer's experience by tailoring solutions around the customer not around the telecom service provider by empathizing with the customer and deemphasis on upsells.
Several interviews were recorded with customers of various telecom providers. The data from their interviews were synthesized into an empathy map.
An Initial flow follows the customer from their entrance to the store to their interactions with a live service rep who uses the information provided by the virtual representative's questions to provide transparency and greater insights into the customer's problem.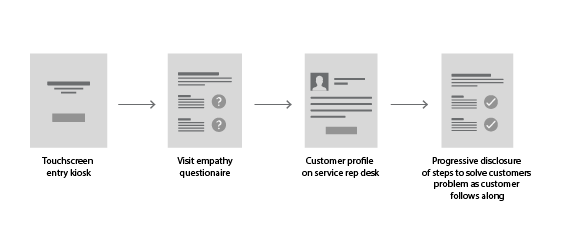 The following screens were used for testing the initial solution.